Viking Cruises' Flash Sale includes FREE airfare and a FREE stateroom upgrade on Mediterranean ocean voyages.  Admire the mighty ruins of ancient Ephesus in Turkey.  Witness medieval Greek monasteries in Meteora.  Marvel at the spectacular ancient theater in Epidaurus.  Discover Antoni Gaudi's incredible artwork at Park Guell in Barcelona and explore the beautiful Palazzo Vecchio in Florence.  Admire mountains, picturesque orange and olive groves, and rolling vineyards in Sicily.  Don't let this flash sale pass you by!  Call Kims Kruises and we'll get you onboard!
Valid on bookings through December 16, 2022
Featured Ocean Voyages:
Ancient Mediterranean Treasures – 8 days
Turkey (Istanbul, Troy, Ephesus)
Greece (Crete, Athens)
Journey to Antiquities – 8 days
Greece (Athens, Crete)
Turkey (Ephesus)
Cruise the Ionian Sea
Italy (Sicily, Naples, Rome)
Greek Odyssey – 11 days
Greece (Athens, Volos, Thessaloniki, Rhodes, Santorini, Crete, Nafplio)
Scenic Cruising: Mt. Athos
Turkey (Ephesus)
Venice, the Adriatic & Greece – 8 days
Italy (Venice)
Croatia (Split, Dubrovnik)
Montenegro (Kotor)
Greece (Corfu, Katakolon, Athens)
Iconic Western Mediterranean – 8 days
Spain (Barcelona)
France (Montpellier, Marseille)
Monaco (Monte Carlo)
Italy (Florence, Rome)
Call Kims Kruises at 330.877.7770 for more information today!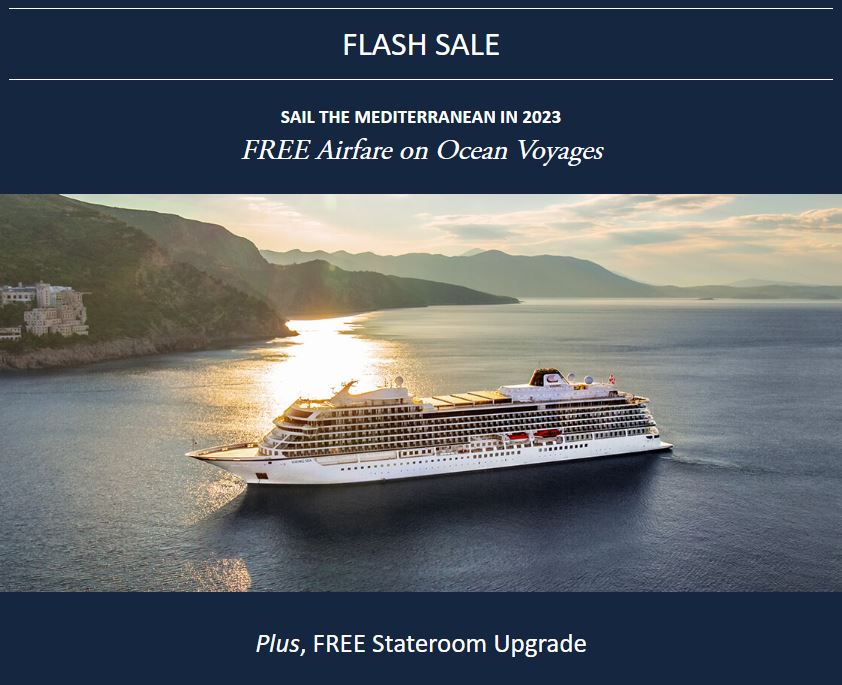 Contact us at 330-877-7770 for updates & information or to book your next cruise. Get a Quote to learn more!